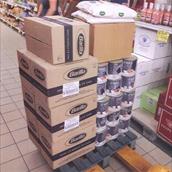 09/07/2018 - An other gift to the Asti's Municipal Table for the Poor
Gianguido Maggiora, friend and member of Wecare, joined our effort to help the Asti's Municipal Table for the Poor, managed by the Congregation "Figlie di Nostra Signora della Pietà" with a substantial food aid: 186 pounds of pasta, 250 pounds of tomato pulp, and 6 packages of cut Ziti....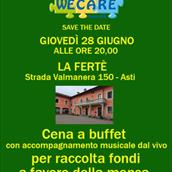 28/06/2018 - Fundraising for the Asti's Table of the Poors
We found ourselves in the beautiful location pf the FERTÈ in Valmanera street in Asti. in order to raise funds for a goal a little different from our usual. This time we have raised funds for a local initiative in Asti: The table of the poors of the City of Asti. A Spanish host, Salvador...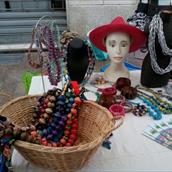 20/05/2018 - Ugandan necklaces sale in Alessandria and Valenza
On Sunday May 20 in Borgo Rovereto of Alessandria, Wecare has installed a stand for the sale of the Ugandan necklaces to raise funds for the construction of the surgical rooms of Pope John XXIII hospital in Aber - Lira - Uganda. At the same time Alda runned a similar stand in Valenza....